Do you face the problem of buying clothes for your child? If yes, then do not worry, you are not alone, because every parent suffers from this problem. When a kid is young, he grows at an enormous speed, and even after a few weeks, you will observe that his clothes have become small. Therefore, it takes a lot of time and money to buy new clothes for babies. So here are some adorable DIY baby clothes, which will help you to save a lot of money. Moreover, you can use your old clothes, which you do not wear, which helps you to clear the clutter from your wardrobe.
Hence, upcycling old clothes is the best option instead of spending so much money on baby's clothes which will become small after a few months. If you are excited about adorable DIY baby clothes, then read below.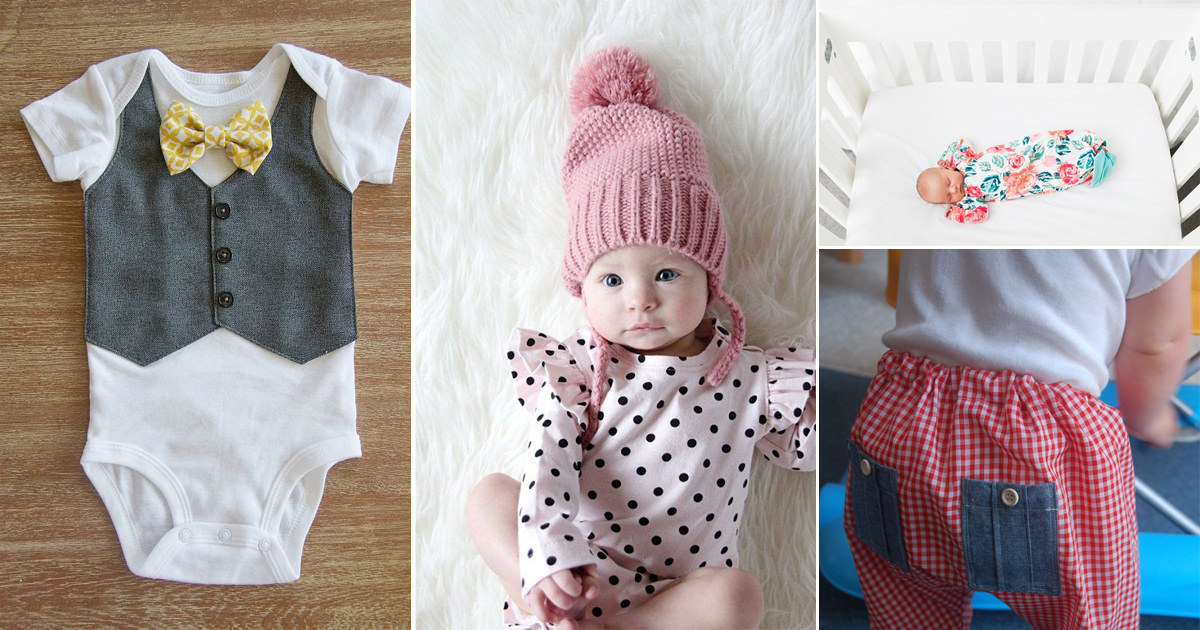 Making Dress From A Formal Shirt; Adorable DIY Baby Clothes
You can easily find one formal shirt in the wardrobe which your husband does not wear. This dress is easy to make because the shirt is large, so you do not have to adjust clothes. You have to cut some sleeves and length of the shirt, and it is not a tough task. Follow these steps to make a dress from a formal shirt.
The collar of the shirt might be extended, so cut down the upper collar carefully.
Remove the pockets, because it does not look good, and remove it carefully do not tear the fabric of the shirt.
The most crucial step is to cut the shirt into a typical A-line dress. Make sure you are cutting both sides of the shirt.
Then cut down the sleeves of the shirt, you can even use the waste cloth for making designer sleeves.
Purchase some bows from the market, or you can make bows of some contrasting color.
At last hem the bottom and sides.
Making Shorts From White Cloth; Adorable DIY Baby Clothes
We usually have some white pieces of cloth which we use a dusting rob. Well, you can turn these cloths into fantastic shorts and skirts for your kids. Firstly take a clean white cloth, you can do some hand paintwork, or you can randomly spill some colors over it. After drying it out, cut it in the A- shape. Add elastic at the top, and it is your wish to make it a skirt or shorts. 
Make A DIY Onesies
Take one t-shirt which is smaller in size. If it is white, then you can draw something. You can even write any quote or your baby's name in a different font. Cut down the length of the t-shirt from the front side, not from the front. After that, cut the end of the t-shirt in a v-shape. After that stitch the end of the backside, to the front side of the t-shirt. You can use even some fancy buttons over the joint.
Hence, there are a lot of other DIY which you can find on social media but do not spend so much money on baby's clothes.